about_iiiC (pdf 44Kb)
(experience | history| business goals | business focus)
Experience the Experts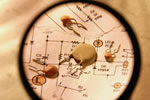 Experience, it can't be bought, and can't be sold, it can only be earned. The experience we've got of selling electronic components and electronic products goes back decade.
Growing up with the changes in our industry has been a learning process which is part of the cost of experience.
Today we don't sell our experience. It's just a part of the product bundle our customers seek. Utilize our experience; it's easier to buy components and products from experts!
History

iiiC was previously known as Broadcasting Service Company (National Institution) engaged in the domestic market of selling electronic components and parts and in provision of broadcasting apparatus. It has earned customer loyalty from a legion of customers and been expanding its market.
In 2006, Broadcasting Service Company was re-organized into iiiC. Now iiiC is providing the world with the wholesale of electronic components and products.
Today we have two offices - one in Hong Kong and the other in Shenzhen.
All administration, database management and accounting is located in Shenzhen, which is also the marketing center. - address here.
Goods shipping, receiving and returns are handled in Hong Kong - address here.
Business Goals

iiiC has always been preaching its own practices: to become your effective and efficient business partner and provide you with the better electronic components and products.
Business Focus

We are a Business-to-Business trader supplying industrial, commercial, governmental and professional customers worldwide. Our focus on the B2B market allows us to provide a very high level of service to a relatively small number of customers. We recommend iiiC Component for smaller quantities of obsolete components.